"Trampoline Room!"
"Laser Tag!"
"Go Karts!"
Club members enthusiastically shout out their answers to the question "what do you want to see in the new building?" as architect Patrick Tighe patiently nods his head and jots their answers down on an easel pad. 
While the new design may not include a trampoline room, laser tag arcade or go kart track, the  ideas that our members shared with us did influence the design.   
Giving our members a voice in changes at the Club has always been a critical part of our youth development strategy. Years ago, teen input led to Club Teen Nights (later hours for teens), starting a nutrition program to serve dinner each evening, and the creation of a Makerspace, Robotics room and Career & College Readiness Center. When we began the design process to renovate and expand the entire building, we knew we wanted to have our youth lead the way. Our teens make a choice to come to the Club and influence their friends to do the same – so it should reflect their interests and needs. 
Before our architectural team was even hired, feedback from Club staff, parents, and members was gathered through a series of focus groups. Staff were concerned about flow and improved flexibility in program spaces. Parents emphasized that safety was their number one priority – they too knew that talking with their kids would best inform programming. 
Club members met by specific age groups as the design was being refined with the architect. Younger members were excited about the possibilities for the program spaces, letting their imaginations run wild with fantastic and fun rooms. 
Teens were clear that they wanted a space that felt appropriate for their age, with a separate front entrance. A space that was modern and futuristic. Visits to other Clubs that had recently completed renovations confirmed that this approach dramatically increased their teen attendance numbers. 
As Patrick incorporated this feedback into designs, the team at the Club would bring the designs back to staff and members and gather more opinions – which designs did they gravitate towards, what could we make better, which ones were a miss. After several iterations, Executive Director Joe Hungler brought the teens 3 different versions, and it was very clear which one of the three hit the mark. 
Some of the design elements that came about as a result of the gathering of feedback are the external appearance – members were clear that they didn't want it to look like a school or factory. The blue and silver shingles are meant to give a sense of home – as many of our members refer to the Club as "a second home". 
The stairs between the two levels of the Club will be moved to a more central and visible location, improving sight lines and safety throughout the Club. Quiet spaces will be incorporated for those members who need a break from the boisterous atmosphere. 
The Teen Center will feature its own entrance, which will have a different look and feel to the rest of the Club. The space is one that we hope our teens will be excited to show off to their friends.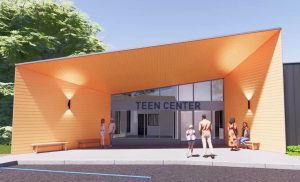 Watch this video
to see our Club members reacting the first time they saw the new design. You can check out the flyover of the building design
here
. Click here to learn more about the Believe & Become campaign, and access our real-time construction camera.
Phasing in a big change – Read about the Club's phased approach to renovating and expanding the existing facility on Middlesex Street to serve twice as many young people.