More than 100 community members mingled poolside at the Boys & Girls Club of Greater Lowell on the evening on November 16, but there were no bathing suits, goggles, or towels.
The pool has been dry since 2008.
The purpose of this pool party was to envision what could be, not only for the former pool area, but for the entire Club and for the futures of generations of Lowellians to come.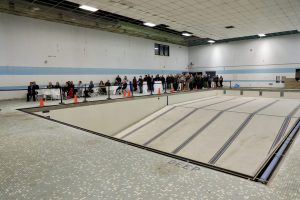 The goal of the Believe & Become Capital Campaign, co-chaired by Mark Gilchrist and John Carson, is to raise $19 million to expand and renovate the Club into a state-of-the-art facility that meets the needs of the community today and into the future. The current building was opened in 1973 and is certainly showing its age.
"This is what our kids need," said Club Executive Director Joe Hungler. "This is what our community needs to have a better future. "
The campaign has raised $11.5 million and the first phase of the renovation is underway.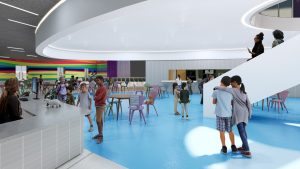 The old pool is being transformed into a new Community Center and Café with a larger, more efficient kitchen. The space will allow the Club to expand their daily meal service from feeding an average of 225 Club members to more than 450, as well as give them a larger café space in which to eat, eliminating the need to have members eat in shifts.
When not being used for meals, the Community Center will host programming and Club-wide events, saving wear and tear on the gym floor. Additionally, outside community groups will be able to rent the space for a nominal fee to hold workshops, meetings, events, and more, providing a much-needed event space in this section of the city.
As he looked down into the old dry pool with its rusted drains, City Councilor John Leahy fondly recalled donning flippers and learning how to SCUBA dive in the pool – the class fulfilled his physical education requirement at the then-University of Lowell. He is excited to see what becomes of his old training grounds and what the improvements will mean for the young people of the city.
"It is incredible to see everyone coming together for this," he said, looking around the room that included the entire City Council, the city's State House delegation, several representatives from UMass Lowell, Lowell General Hospital, and other organizations in the city. "This is going to change a lot of lives."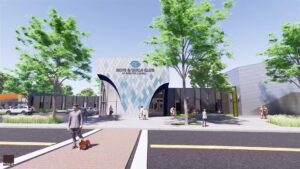 But the pool renovation is just the tip of the iceberg. There is so much more planned, including the expansion of the front entrance;  upgrading infrastructure like HVAC units, fire suppression systems, flooring, stairwells, lighting and bathrooms; making the Club fully ADA compliant by installing an elevator and reconfiguring bathrooms to be single stalls; and the addition of additional programs and services including more job training and certifications, better mental health supports, meditation and quiet spaces, expanded arts programming, and more robust community services.
The renovation will allow for an expansion of the arts program to include theater and dance with the addition of a black box theater and an expansion of the Club's popular music clubhouse. There will also be a dedicated space for STEAM (Science, Technology, Engineering, Arts, and Math) activities.
The goal of the Boys & Girls Club is to end the cycle of generational poverty. Currently, 22 percent of Lowell's children live in poverty. Breaking that cycle is done, not only by providing a safe and fun space and engaging programming through which young people can socialize, learn, grow, and plan for their futures, but by also providing resources and wraparound services to their families.
The new space will include small quiet meeting rooms for parent/staff meetings, translation support, and for the Club's full-time social worker to meet with youth and/or parents.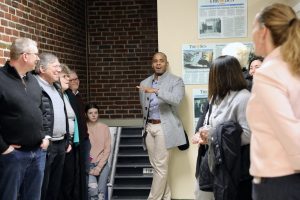 Boys & Girls Club Board Vice Chair Vladimir Saldana, who grew up hanging out at the Club, said one of the most exciting parts of the project is the expansion and modernization of the Club's Teen Center.
"Teens are the population that are most at-risk," he said. "I know personally those years were when I did some stupid stuff. This new space will make an immeasurable difference."
Boys & Girls Club Communications Strategist Angel Brunelle agreed.
"These are the ages when we are most likely to change the trajectory of their lives and make a difference," she said. "Our goal is that teens can come here to connect with one another, play ball, and figure out a plan for graduation and beyond."
The new Teen Center will be at the front of the building and have its own dedicated entrance, personal lockers, and phone charging stations. It will also include dedicated quiet areas for studying. Additionally, career and college readiness programs will expand to include on-site job skills training and provide support to 75 percent of the Club's teen membership.
The expansion will allow the Club to increase their teen population from serving 100 per day to 250 per day.
"Teens want to feel independent," said Angel Brunelle. "They choose to come to the Boys & Girls Club so it has to look and feel like the kind of place teens want to be."
The Club, Saldana said, is much more than just a place to go after school and play basketball or get a meal.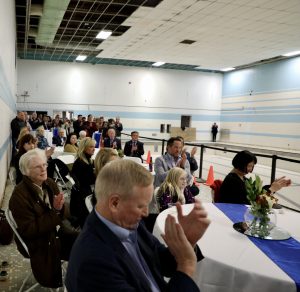 "I cannot think of another space in Lowell with an open door where kids can go and make it their second home," he said. "This is especially important when we are trying to end generational poverty. A lot of these kids are living in conditions where they are doubled up with other families and cannot find space of their own when there are four or five kids in an 800 square-foot apartment. The Club provides that space and so much more."
When the full Club renovation and expansion project completed, hopefully in 2025, the Club's footprint will expand from 40,000 square feet to 53,500 square feet and its capacity will balloon from serving 300 young people ages 8-18 daily to serving up to 600 daily; the annual operating budget will increase from $2.2 million to more than $4 million; staffing will grow from 15 full-time and 25 part-time employees to 28 full-time and 52 part-time staffers.
Gilchrist urged those in attendance to share the capital campaign with their friends and colleagues.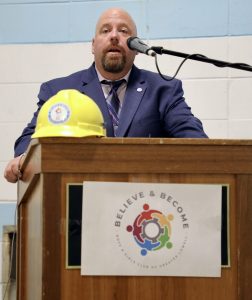 "The Boys & Girls Club of Greater Lowell is a place where every dollar quickly makes a demonstrable difference; when you give, kids see the impact immediately," he said. "This is really going to take a village, and we will take all of the villagers we can get."
For more information about the Believe & Become campaign, including how to donate visit: https://believe.lbgc.org/